Utah
Trip report (itinerary and photos) from our recent trip to southern Utah (Zion, Arches, Canyonlands and Bryce).
My wife and I took a trip to southern Utah in early July. It was the first (somewhat extended) trip we had taken since the beginning of the pandemic, so we were very much looking forward to it. We visited 4 National Parks (Zion, Arches, Canyonlands, and Bryce)  and saw some incredible places (Horseshoe Bend, Gooseneck State Park, and Monument Valley). The landscape of this part of the country is stunning - we will certainly return in the future. Here is a short trip report; hopefully, it helps a friend planning a similar trip.
Overall Route
Itinerary & Photos
Travel to Springdale
Saturday
Travel day, nothing too remarkable:
Flight from NYC to Las Vegas landed around noon
Drove to Springdale, UT
After we checked in at our hotel and we picked up rental gears (water shoes, and walking sticks) from Zion Outfitter for hiking the Narrows the next day.
We familiarized ourselves with the area and took in the view of the Watchman from the bridge over the Virgin River. This is kind of a classic spot for sunset (we had to miss it to get early the next day for the earliest shuttle to the Narrows hike).
Zion National Park
Sunday
Private cars can't enter the park during the summer, so you'll need to take the shuttle (which is pretty frequent, approximately every 10 min). We got up early to avoid the heat and crowd (and have enough time to finish the hike) but still met a pretty long line for the first shuttle (6 am).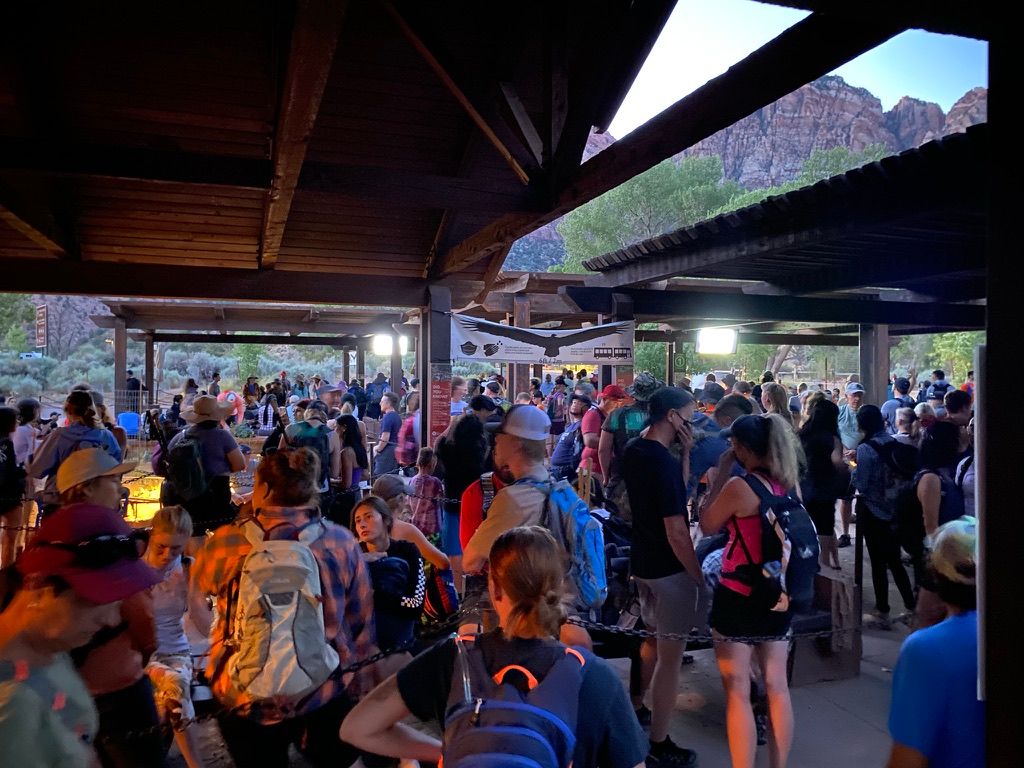 The Narrows is on the bucket list of hikers all over the world. We spent a wonderful day there, and the hike lived up to its reputation.
Monday
We didn't finish the Angels Landing (maybe next time) and turned around just before the chained section. It was still a fun and challenging hike with magnificent views.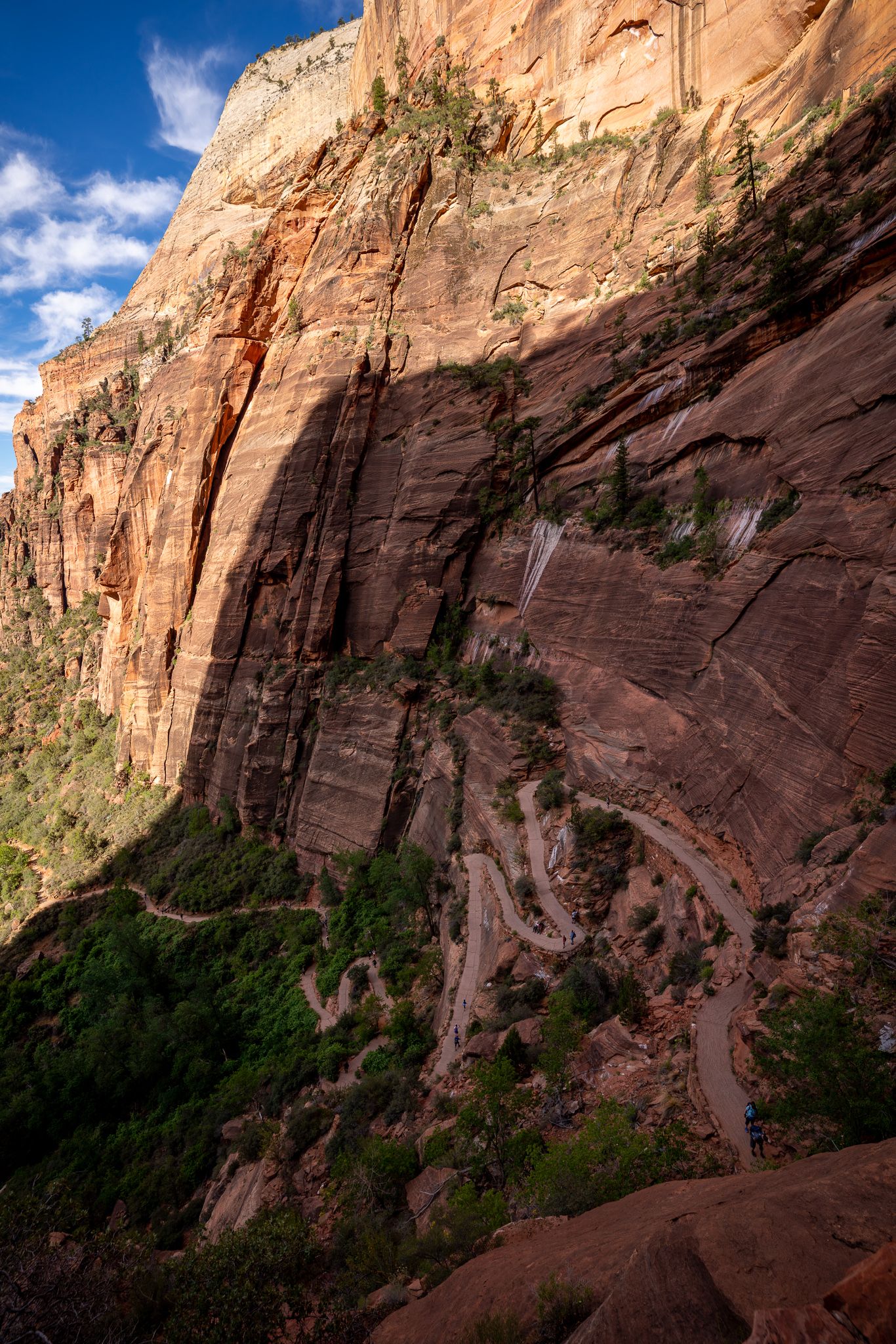 Tuesday
Canyon Overlook overlooks the east canyon. From it you can see the meandering Zion-Mt. Carmel Scenic Drive. It was rather cloudy when we hiked Canyon Overlook train. But on our way back the sun came out and everything looked magical again. (See the first row of photos below).
Observation Point is a good view point for the main Zion canyon (video). You can see Angels Landing, as well as the people on the very tip of it (video). (See the second row of the photos below)
Wednesday
We need to travel from Springdale (Zion NP) to Moab (Arches NP), it's a long drive but we can pass through some interesting sites. Here is a list of points of interest and approximate driving times:
Leave hotel in the early morning, say 5am
The Wave (if you can get a permit, see here)
2.5hr till Horseshoe Bend
It was a pretty bit disappointment Antelope Canyon and Monument Valley didn't reopen until after our visit. But, more excuse to visit this area again. The list of destinations is a bit too ambitious for one day, when we are actually doing the drive we decided to skip Mulley Point and items below it.
Horseshoe bend is a natural wonder, with glowing red rocks, dark green water and a dramatic near 360 degree bend. People are also camping and kayaking down below (2nd photo). The contrast in size makes you feel small and in awe of nature. It's a healthy feeling. That's probably why we go to visit these places and come back with better perspective on our lives.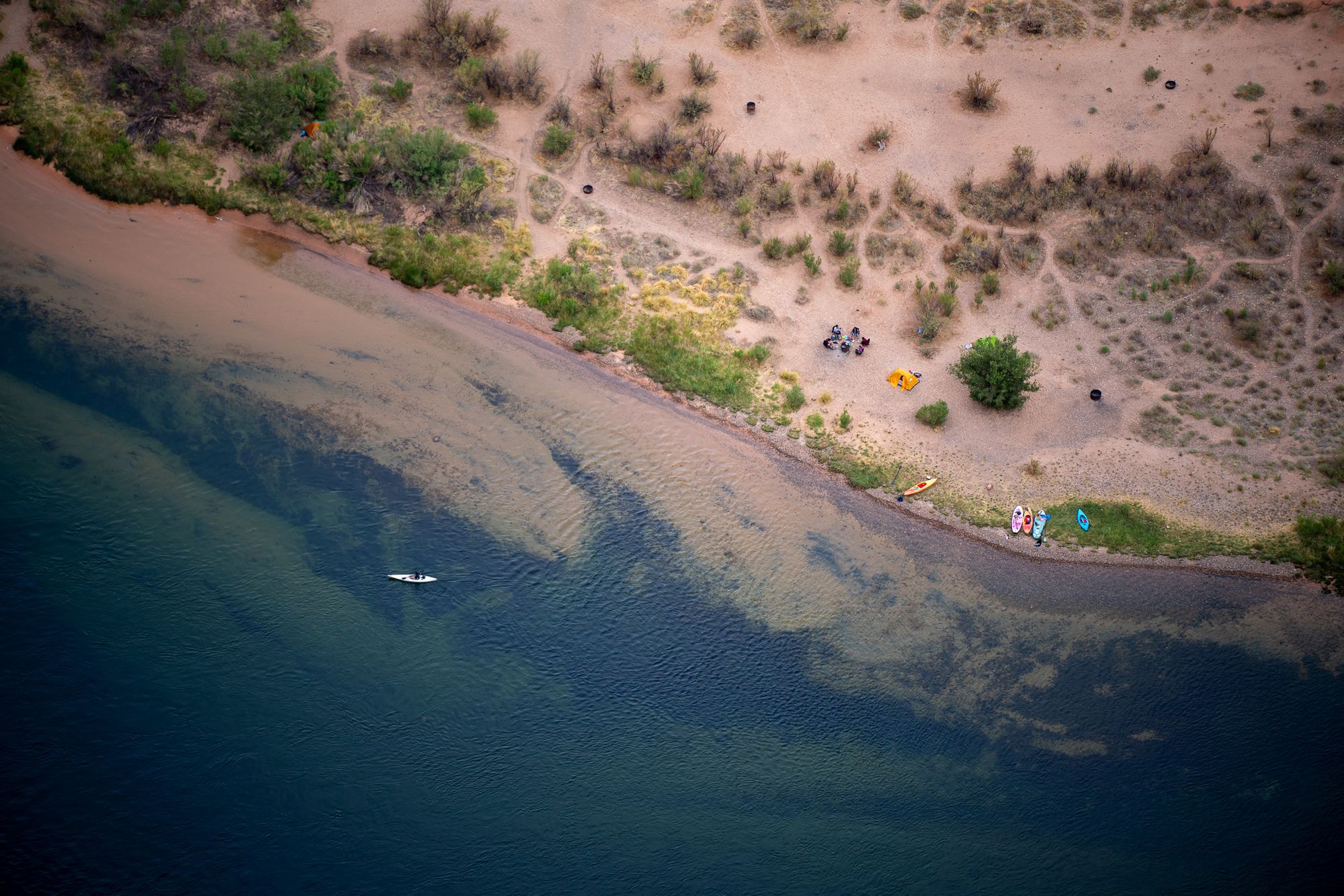 Antelope Canyon and Monument Valley are both part of Navajo Nation's parks. They are both closed, but we caught a glimpse of Monument Valley when driving by. The last photo below is taken near the famous Forrest Gump point.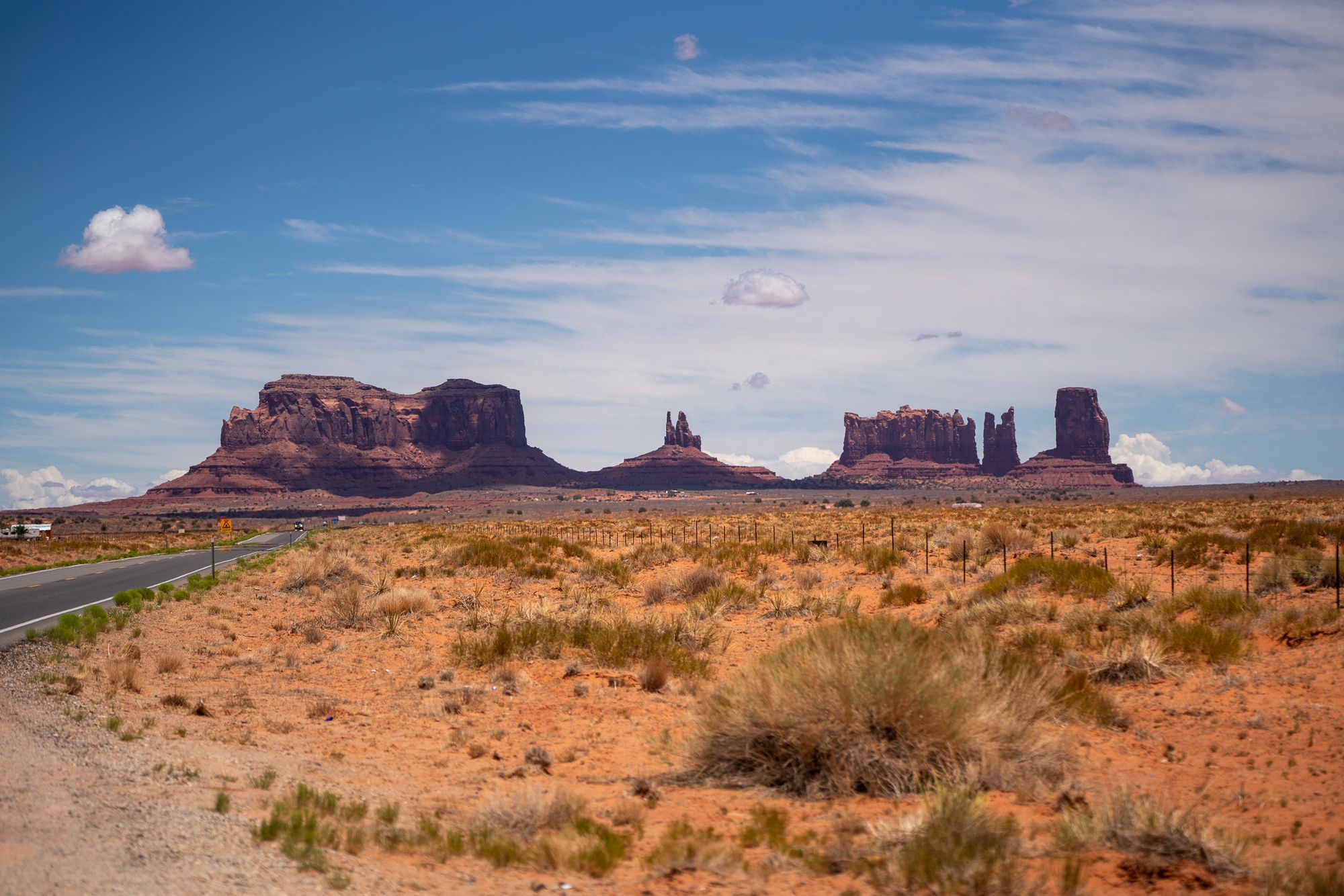 We also quickly visited Mexican Hat, and Goosenecks State Park before continuing to Moab. Goosenecks is pretty fun - we had picnic and met another photographer who took a great photo of us (and I didn't have to explain how to use my camera)   (I learned that you really can't fit all the gooseneck bends in one photo no matter how wide angle your lens is :).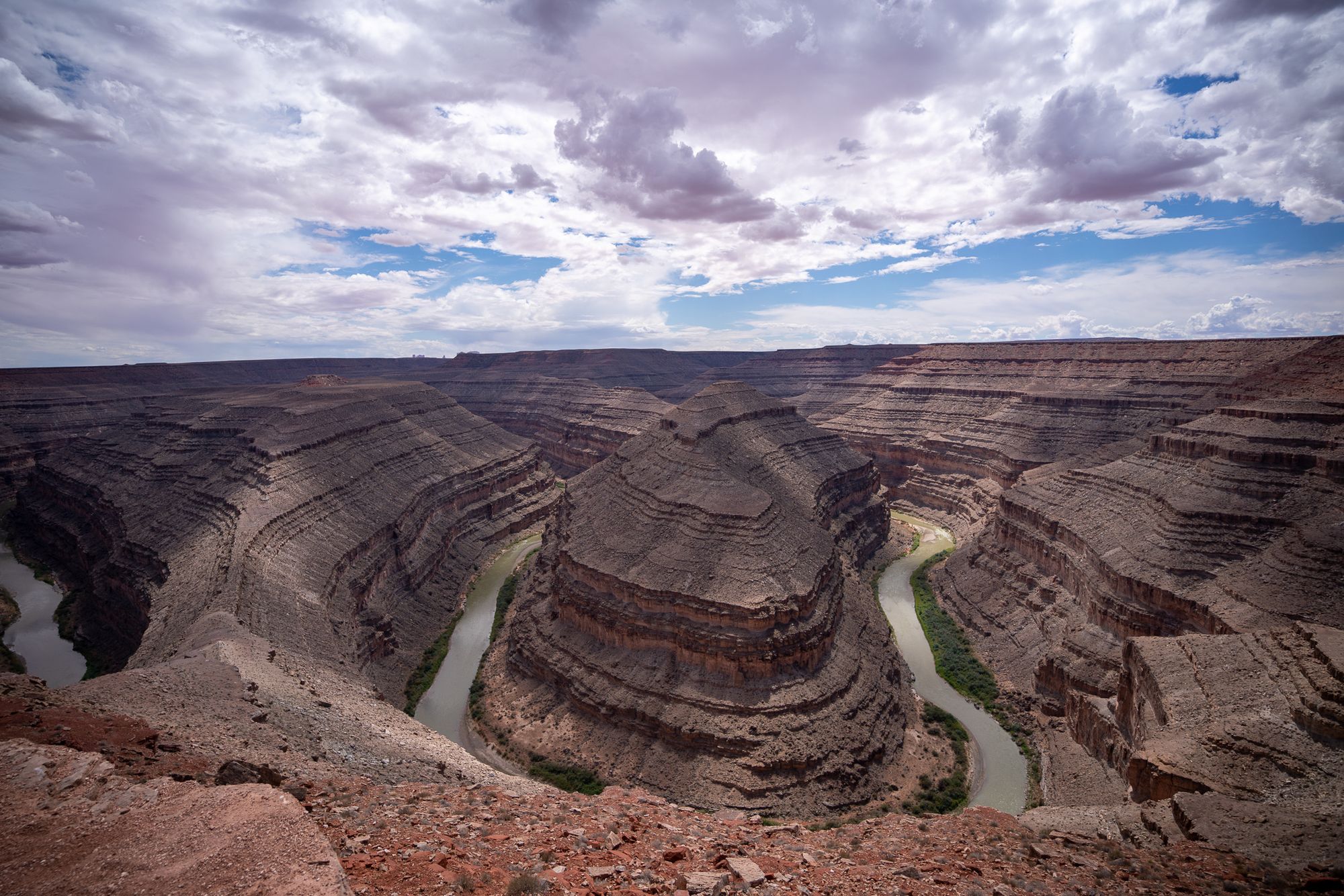 Arches National Park
Thursday
This isn't a big park, so we decide to spend only one full day here.
40min from Moab to Devil's garden trailhead
Devil's garden hike to Double O and back (4 miles, 2.5 hr)
Windows and Turret (0.7 mile, 45min)
Double Arch (0.5 mi, 30min)
Park Ave (2mi, 1.5hr)
Get out of the park to get lunch and rest (avoid the mid-day heat, 100+F)
Delicate Arch (3 mi moderately strenuous, budget 3 hr), sunset
In Devil's garden, once we went past the Landscape Arch the trail  became very interesting: after a bit of scrambling, we walked on a huge sandstone fin, with soft morning light, stunning views all around, and a deer next to us (video).
Canyonlands National Park
Friday
Spent the morning in Canyonlands and did a shortened version of this guide.
About 1hr from Moab
Overall route google map
Mesa Arch sunrise (1hr)
Grand View point Overlook
Orange Cliff Overlook
hike White Rim Overlook 1.8mi, 1 hr
Buck Canyon Overlook
Green River Overlook
Shafer Trail Viewpoint
Shafer Canyon Overlook
Visitor Center Viewpoin
Watching sunrise at Mesa Arch is a very popular thing to do, and there were about 10 other photographers with tripods open when we arrived. Mesa Arch overlooks a huge canyon (top). As the sun rises, the dull scene gets dramatically painted by the warm, golden glow (bottom). You feel it's more than just physics at work.
We then drove to a few overlooks, hiked the White Rim Overlook trail, and caught a glimpse of the vastness of the canyonlands.
Bryce Canyon National Park
Saturday
This was our last full day on the strip and we took it easy by getting up pretty late (we've been getting up before 5am for the week to hike in more pleasant temperatures), and hiked only one main trail. We mostly followed this guide.
Drive to Sunset Point, park
Walk to Sunrise Point
Hike Queens Garden / Navajo Loop (3mi)
We learned that Bryce is a phenomenal place for stargazing due to clean air, far from light pollution and high elevation. We went to a nearby telescope tour and saw lots of stars despite it's very cloudy - it's pretty amazing to see Saturn's rings. When the clouds opened up just enough, I took my first ever photo of the Milky Way.
Follow @magicfeature on Instagram for my travel/cityscape photos.