Italy
In October 2021, we spent two weeks traveling to various cities in Italy, including Rome, Cinque Terre, Florence, Tuscany, and Venice. This was our first trip to Italy, and we have documented our journey with a report and photos.
In October 2021, we spent two weeks traveling to various cities in Italy, including Rome, Cinque Terre, Florence, Tuscany, and Venice. This was our first trip to Italy, and we have documented our journey with a report and photos.
Overview
Time to visit: The best time to visit Italy is spring or fall. We decided to visit in the fall (mid-Oct).
In hindsight, some of the Tuscany locations might look a lot better / greener during spring (say April, next time!).
Itinerary: we decided to visit  Rome, Cinque Terre, Florence, the Tuscany area, and Venice. Milan, Lake Como, Amalfi Coast are too much to cover within the time we have.
Here is a breakdown of 14 days:
Day 1: Arrival in Rome
Day 2-3: Rome
Day 4: Rome -> Cinque Terre
Day 5: Cinque Terre
Day 6: Cinque Terre -> Florence
Day 7-10: Florence/Tuscany
Day 11: Florence -> Venice
Day 12-13: Venice
Day 14: Flying out of Venice
Rome:
10/10 (Half day + jet lag)
The flight landed at FCO airport in the morning. We took an old-fashioned taxi to our hotel, which is near Spanish Steps (a pretty touristy area, with easy access to subways and other touristy areas).  
We explored the neighborhood a bit and got some food nearby.
10/11 AM: Roman Forum and Colosseum
We had tasty pastries for breakfast (and, of course, espresso - they just call it coffee here).
Next, we went on a guided tour of the Colosseum, Forum, and Palatine Hill (they are relatively close to each other). This takes about 3 hours in total. We found the guided tour and stroll through the Forum to be unexpectedly delightful, and we wanted to go back to revisit when we had more time. The sight of the Colosseum was truly awe-inspiring.
10/11 PM: Trevi Fountain, Galleria Sciarra, Piazza del Popolo
We had the afternoon to ourselves and walked from the Colosseum to the general direction of Piazza del Popolo, explored various local streets, and visited a few popular spots, such as the Trevi Fountain and Galleria Sciarra. You can follow this blog's Day 1 walking route.
In the evening, I ventured out to this bridge and took a photo of the dome of St. Peter's Basilica, which is where we were headed the next day.
10/12 AM: Vatican Museums and St. Peter's Basilica
Early in the morning, we embarked on a tour to explore the Vatican Museums, the Sistine Chapel, and St. Peter's Basilica. We stopped for breakfast in a courtyard located either within or near the Vatican Museums. The serene morning light cast a beautiful glow on the sculptures and the basilica's dome.
I really enjoyed some of the sculptures in the museums, especially The Belvedere Torso (left photo below). Other well-known sculptures are discussed here.
The Vatican Museums feature a stunning and captivating attraction, which is a lengthy corridor measuring 120 meters in length and six meters in width. This corridor, embellished with geographical maps, serves as a pathway to the Sistine Chapel and is widely regarded as one of the most beautiful and evocative sections of the museum. The Gallery of Geographic Maps, which includes these maps, was constructed between 1580 and 1585 at the behest of Pope Gregory XIII. [reference] (Thank you, ChatGPT. Anyways, amazing corridors).
And, of course, the world's most photographed stairs.
St. Peter's Basilica is a world-renowned church located in Vatican City, named after St. Peter, one of the twelve apostles of Jesus. It boasts a stunning combination of Renaissance and Baroque architecture, with intricate details, sculptures, and artwork adorning the interior and exterior of the building, including Michelangelo's Pieta and the iconic dome designed by Michelangelo.
We waited a bit to see the change of the guard. To be honest, it is not a lot of activity other than the guards wearing colorful uniforms, so this can be safely skipped if you are short on time.
Fun fact, there is a statue of St. Veronica who, according to tradition, wiped the face of Jesus during his journey to Calvary, leaving an image of his face imprinted on her veil. This image is known as the Veil of Veronica. We might consider her as the god of Photography (just kidding), obligatory photo below (left).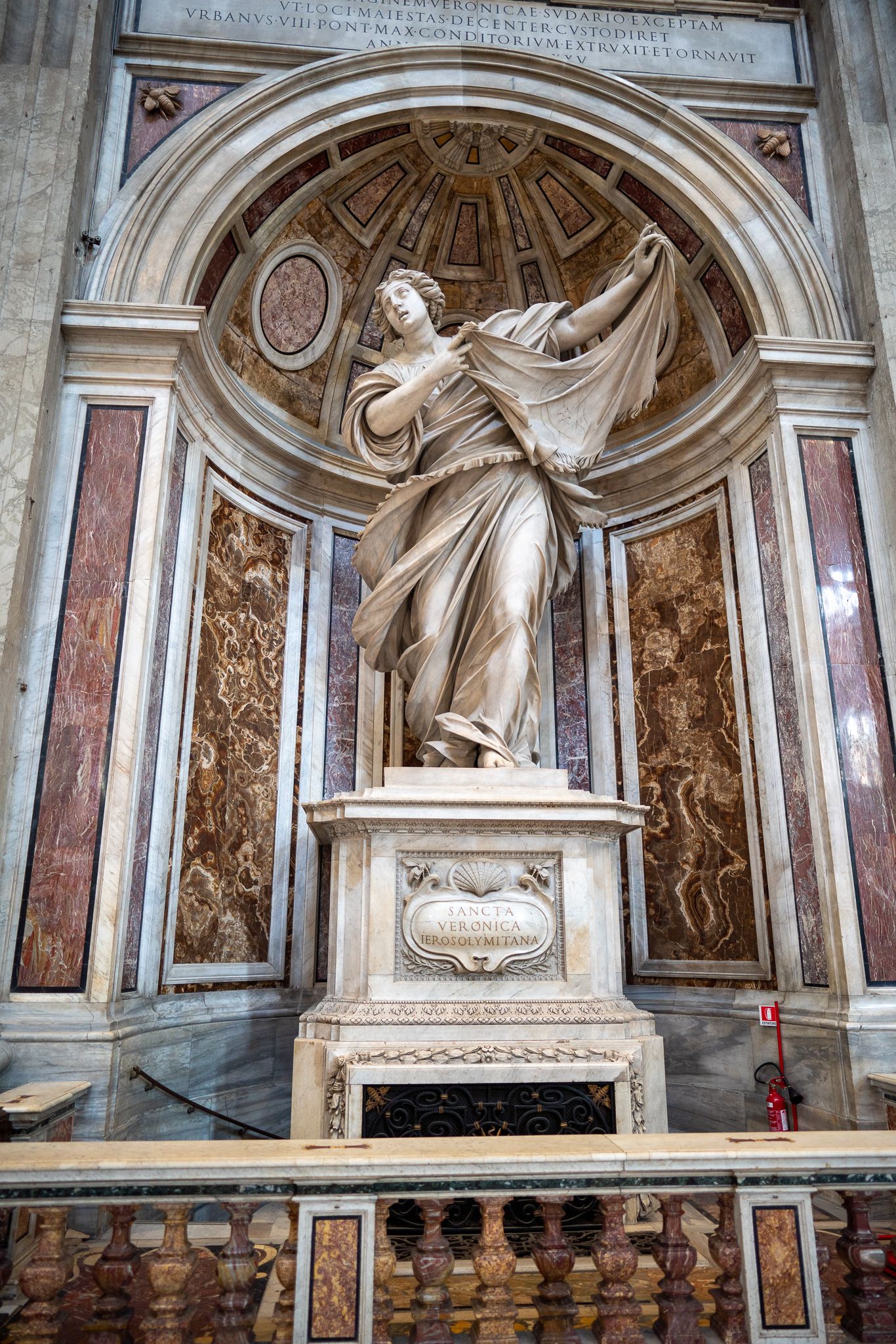 10/12 PM: Walking around
In the afternoon, we walked around according to this blog's Day 2 walking route. Passing by St. Peter's Square, Castel Sant'Angelo, Piazza Navona and Pantheon. We visited Campo de' Fiori (a busy market square) and grabbed lunch there.
The Pantheon is a well-preserved ancient Roman temple in Rome, Italy, built in 118 AD. It is famous for its massive dome, which was the largest unsupported dome in the world for over 1,300 years. There was a super long line when we passed by Pantheon, so we didn't go in (small regret).
In the evening, we got on a food tour in the Prati area, lots of eating and learning about how to read food labels of Italian wine, food and ingredients.
Cinque Terre
10/13 Travelling from Rome to Cinque Terre by train.
Cinque Terre consists of a series of five vibrant coastal villages situated on the Italian Riviera, which are famous for their scenic beauty, hiking routes, and mouth-watering seafood dishes.
The villages that comprise Cinque Terre are Monterosso al Mare, Vernazza, Corniglia, Manarola, and Riomaggiore, listed from north to south. We decided to stay at Manarola.
The journey from Rome to Cinque Terre by train takes approximately 4.5 hours. Once we arrived at our lodgings in the afternoon, we visited Nessun Dorma, a well-liked bar in the village that has a terrace with a panoramic view of the sea and sunset, and spent some time there.
10/14 Exploring other villages
Our original plan was to
Take the train to Monterosso and hike all the way Monterosso → Vernazza → Corniglia.
Visit the Vernazza outlook point at the beginning of the trail to Corniglia.
Take the train to Riomoggiore and explore.
Take the train back to Manarola.
Information about hiking Cinque Terre
Unfortunately, the trails were closed due to landslides when we visited. So we skipped Step 1 above but still explored Vernazza and Riomoggiore.
Vernazza is really quiet, and Riomoggiore is bustling with activities.
Florence
10/15 Traveling from Cinque Terre to Florence
We departed from Cinque Terre in the morning and caught a train to Florence. Our accommodation was close to the Mercato Centrale, which was convenient as it allowed us to explore the nearby areas on foot.
Upon arrival, we set out to discover the vicinity and had lunch. The cost of food in Florence is less than half of what we would pay in the US. One of our fondest memories of Florence was indulging in tasty food and wine, particularly the lampredotto sandwich.
We wandered towards Piazzale Michelangelo, which offered an excellent panoramic view of the city and managed to pass by a couple of plazas along the way.
Piazza della Repubblica is a famous square located in the historic center of Florence, Italy, built in the 19th century. It is home to a stunning triumphal arch, surrounded by notable buildings and landmarks and known for its lively atmosphere with vibrant street performers, artists, and musicians.
Piazza della Signoria is a famous square in Florence, Italy, located near the Arno River. The square is home to the Palazzo Vecchio, a historic fortress and town hall, and features numerous statues and sculptures.
Finally, after a small hike, we arrived at Piazzale Michelangelo. It's quite a popular place filled with tourists at sunset. The view from this spot is breathtaking as it offers sights of the Duomo (Cathedral of Santa Maria del Fiore), Palazzo Vecchio, the Arno River and the famous Ponte Vecchio.
We had dinner near the Piazzale Michelangelo and had the opportunity to enjoy views of the city both at sunset and after dark.
While returning to our hotel, we came across the Museum of Alessandro Dari, a celebrated goldsmith, and jeweler. The museum exhibits an array of Dari's exclusive and intricate jewelry creations, sculptures, paintings, and other artworks. The work is stunning and inspiring, pictures can't do it justice - I'd highly recommend you check it out! Here is his website https://www.alessandrodari.com/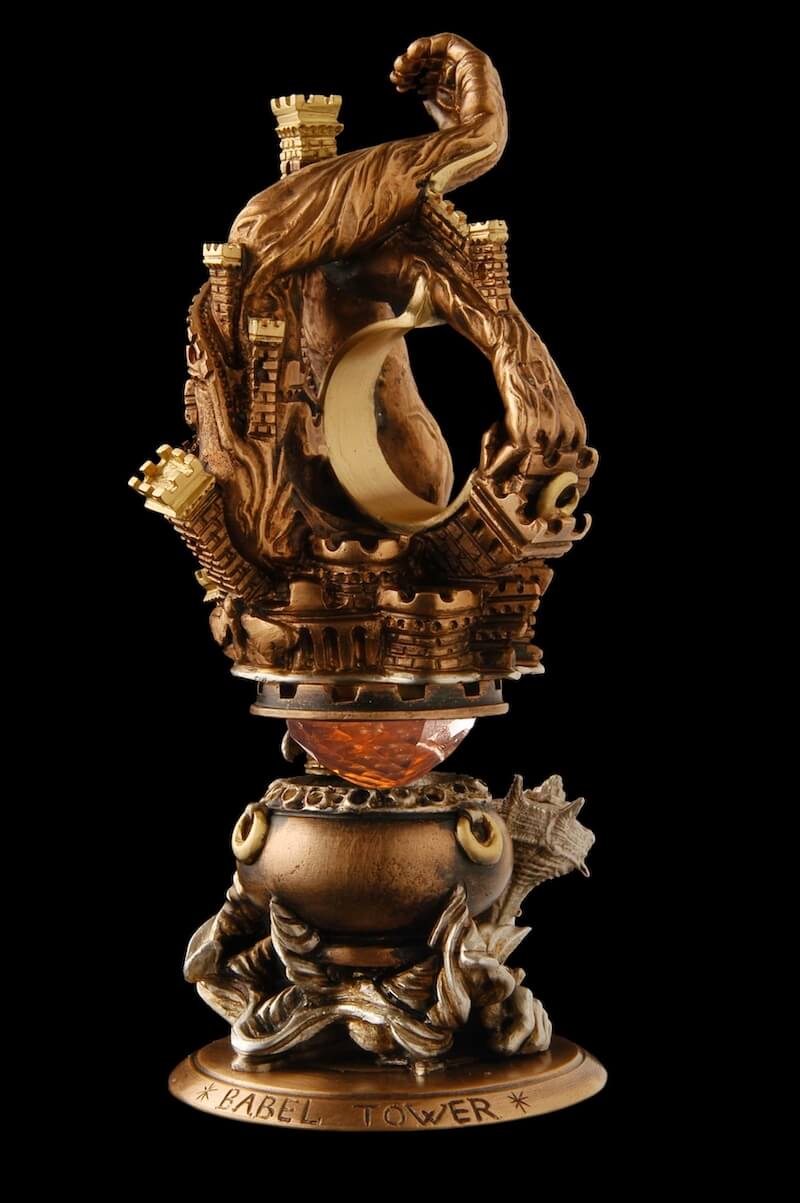 10/16 Michelangelo's David and Uffizi Gallery
The Galleria dell'Accademia is a fairly small museum, housing the famous statue of David by Michelangelo. The museum also features a collection of other Renaissance artworks and sculptures, as well as a section dedicated to musical instruments. This is a pretty popular attraction, book skip-the-line tickets here.
The Uffizi Gallery is known for its extensive collection of Italian Renaissance artworks, including masterpieces by famous artists such as Botticelli, Michelangelo, Leonardo da Vinci, and Raphael. It was established in the 16th century by the Medici family and is considered one of the most significant museums in the world. Here is the skip-the-line / guided tour that we took.
During the evening, we ascended the bell tower of the Duomo, which required a challenging climb due to a narrow stairwell that accommodates two-way traffic. While the view was pleasant, the top of the tower was fenced, making it difficult to take decent photos with a proper camera.
10/17 Day trip: Siena, San Gimignano, and Pisa
https://www.getyourguide.com/florence-l32/from-florence-tuscany-day-trip-with-lunch-and-wine-t383686/
10/18 Cooking class
https://www.getyourguide.com/florence-l32/traditional-italian-cooking-class-at-a-farmhouse-in-tuscany-t108565/
10/19 Driving around Tuscany
Venice
10/20
10/21
10/22
10/23
Reference
Our travel planning heavily relied on the blog posts below that provided valuable information and tips about traveling in Italy. We highly recommend checking them out as you plan your own trip to Italy.